All New Zealand
Universities are
ranked in the top
3% in the world.
A NEW WORLD LEADER FOR EDUCATION.
*QS World University Rankings
The benefits of New Zealand universities
Quality and rankings
World class education and learning environment.
All New Zealand Universities rank in the Top 3% of Universities World Wide

 (QS World University Rankings)

New Zealand has been ranked #1

in the world for preparing students for the future (The Economist Intelligence Unit)

'Top performing country' for the quality of its education system (The OECD 2013 Better Life Index rates)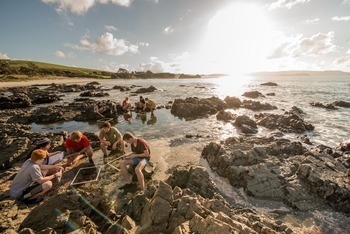 In high demand
New Zealand qualifications are highly regarded and sought after by employers in the industries, and by other educational institutions around the world.

Real world
In New Zealand, you learn much beyond your subject. Education is highly focussed on practical work. Students become confident, critical and creative thinkers. These skills are highly appreciated in the real-world, by employers worldwide.

Globally recognized
New Zealand qualifications are highly regarded and recognized globally.
The people
New Zealand is a very diverse and multicultural country with people from all over the world, who call it 'home'.
New Zealanders or "Kiwi's" are known for welcoming people from other cultures and countries, thus making the country one of the  safest and tolerant in the world.

Living in NZ
Many students choose to stay in New Zealand after their study; either to work, live, study further, or just enjoy the beautiful landscape and great lifestyle.
The government has different pathways for the same.

International Connections
Over 20,000 international students choose New Zealand education providers from approximately 160 countries.
GLOBALLY RECOGNIZED UNIVERSITIES
See what real students have to say
For me, Liz Batra and her team deserve 10/5 stars. She is definitely the right person for visa filing. Because of her superb capabilities to deal even the challenging cases, I got my student visa for University of Canterbury (level 9) in just 5 or so working days. Her dedication, transparency and honesty is beyond comparison. She always advices the correct courses to students. Kanwal Ma'm has been an equally good support during the whole filing process.
Thank You so much.
I am indebted to you for life.
All the best wishes for future endeavours!
Cheers!!
Manveer Bhullar
Get in touch with one of our New Zealand education advisers now! We are here to help you.
The right course at the right place
We understand that an overseas education may be one of the biggest life decisions you may make. It is therefore crucial that you pick the best course at the best education provider as per your circumstances.
Application paperwork
From applying for Admission at an Education Provider up until getting your Visa, there is a lot of paper work involved.
Our experienced advisers will guide and support  you throughout your process.
Talk to us now
We are a FREE Service, and therefore do not charge students any fees for our services.